Welcome at MOKAJI WILD SAFARI Page.
MOKAJI WILD SAFARI OPRATE 3 Types of Safari's.
1. Kumbhalgarh Wild Safari.
2. Jawai Wild Leopard Safari.
3. Jodhpur Machiya Safari
With all India Wild Safari Booking Available.
Booking & Any Confirmation by Whatsapp/Contact : 7020654349
Email : mokajiwildsafari@gmail.com
So join with Us you & Your Loving Family & Friends.
India has 13 Famous Wild Safari's
India is blessed with diverse nature and a rich landscape. Many communities and cultures live here. This diversity is also seen in wildlife around the country. A jungle safari is the closest way of experiencing the wildlife of India. So, if you are looking for an adventure trip, read on to know the best places to experience Jungle Safari.
1. Ranthambore National Park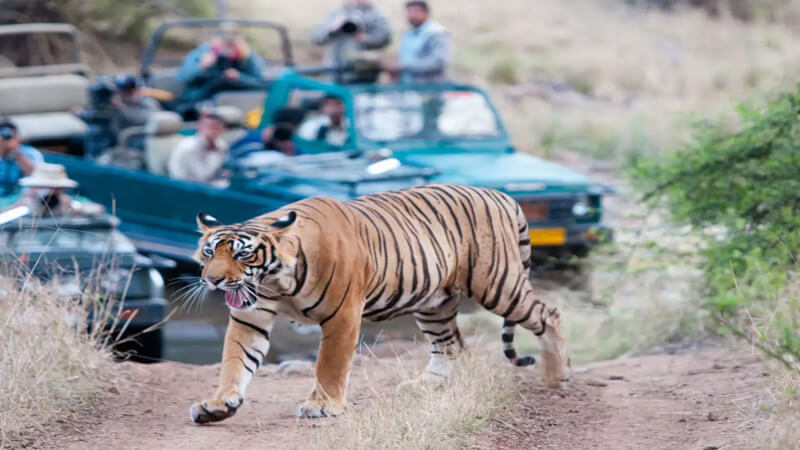 The Ranthambore National Park is stretched for about 13,000 square kilometers which is home to many tigers. You can see the majestic beasts living in their natural habitat making this national park regal and royal. The best time to visit Ranthambore National Park is from March to May as you can easily find jungle safaris. For a particular safari, 3-4 hours will cost you from Rs. 1500 (Jeep Safari) to Rs. 57,000/- (Special Safari for the entire day). People come from all over the world to see the tigers. Apart from the tigers, you can also witness Sloth Bears, Wild Boars, Monitor Lizards, Flying Foxes, Sambars, etc. Plan this adventurous trip now.
2. Hemis National Park
Snow Leopards! Sounds Great! Right? The Hemis National Park located in Ladakh is one of the highest altitude wildlife safaris of all time. The chilly weather and massive snowfall will make you fall in love with nature and wildlife. Here you will find primarily snow leopards, along with Ibex, Blue Sheep, Tibetan Argali Sheep, and Snowcocks. Well, the park remains closed during November due to the heavy rainfall in the area. The best time to visit this national park is from May to September. The entry fee is Rs. 20/- for Indians and Rs. 100/- for foreigners.
3. Jim Corbett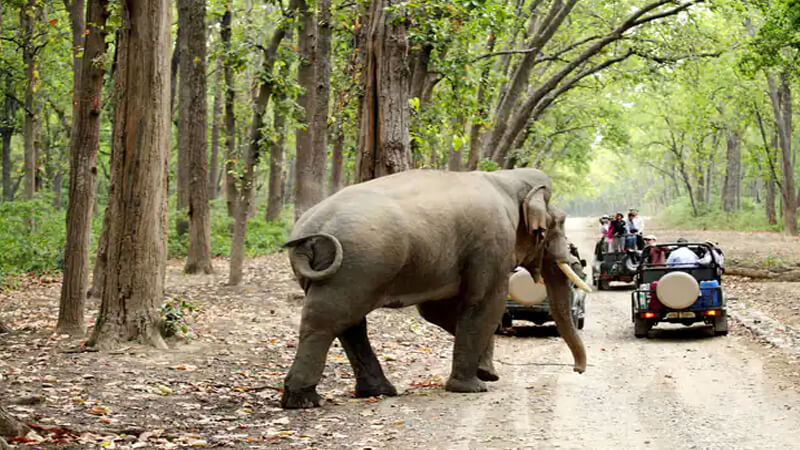 This is one of the most visited national parks of all time. Jim Corbett National Park is Asia's first national park to be named after a tiger hunter and explorer, Jim Corbett, who hunted man-eating tigers at that point in time. To protect tigers from getting extinct, Jim Corbett National Park was made wherein there are four areas to visit, i.e., Dhikala, Bijrani, Jhirna, and Durga Devi. Here you can see Bengal Tigers, Chital, Deer, Asiatic Elephants, Gharial, Black Bear, and much more. Plan this trip between March and May to get an amazing experience.
4. Bandhavgarh National Park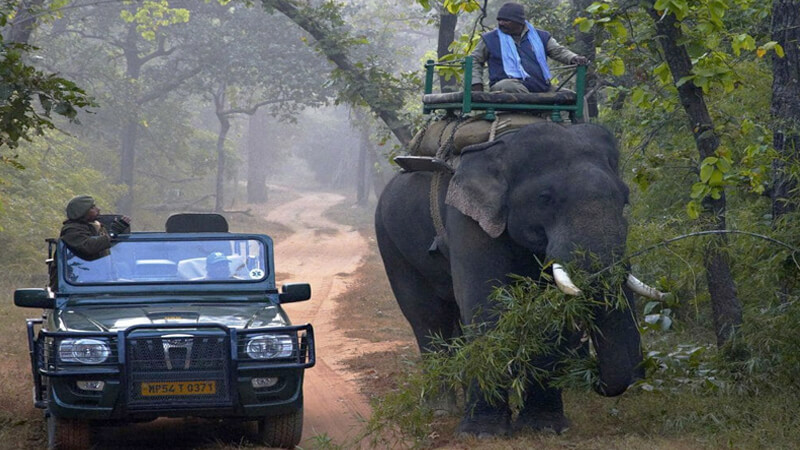 Being a hunting ground for Royal Families for many years, the ground in Madhya Pradesh has now become a protected reserve for the Royal Bengal Tiger. Bandhavgarh National Park is one of the densely populated tiger reserves in India. The officials conduct guided safaris where you can see and learn about these majestic beasts. You can see leopards, barking deers, nilgai, Bengal fox, Striped Hyena, etc. The best time to visit this place is in October. A four-hour jungle safari costs you Rs. 8500/-.
5. Kanha National Park
Featured in children's famous book 'Mowgli', this park has gained a lot of population. Staying true to the book, you can spot panthers, bears, elephants, pythons, and many other animals. The park is divided into four sections, namely Kanha, Kisli, Sarahi, and Mukki Zone. A visit to this park will have you reminiscing about your favorite tales. Plant this trip between October and mid-June. The three-hour jeep safari will cost you Rs. 8500/-.
6. Pench National Park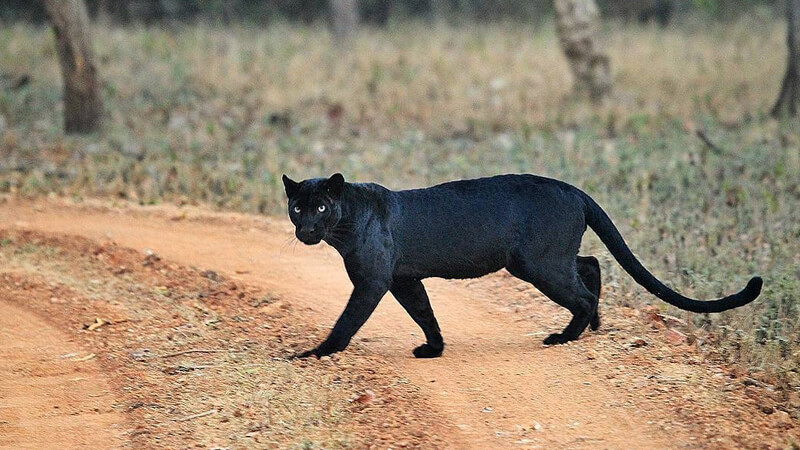 Located on the borders of Maharashtra and Madhya Pradesh, this national park stretches up to 400 square kilometers and is known as a protected reserve for tigers. The key feature of this reserve is the diverse vegetation that grows here. You can find the trees and plants growing in moist, dry, and arid regions. Apart from the tigers, you can also find Nilgais, Leopards, Wild Boars, etc. The 3-5 hours of safari costs you Rs. 5000/-. The best time to visit the Pench National Park is from October to June.
7. Satpura National Park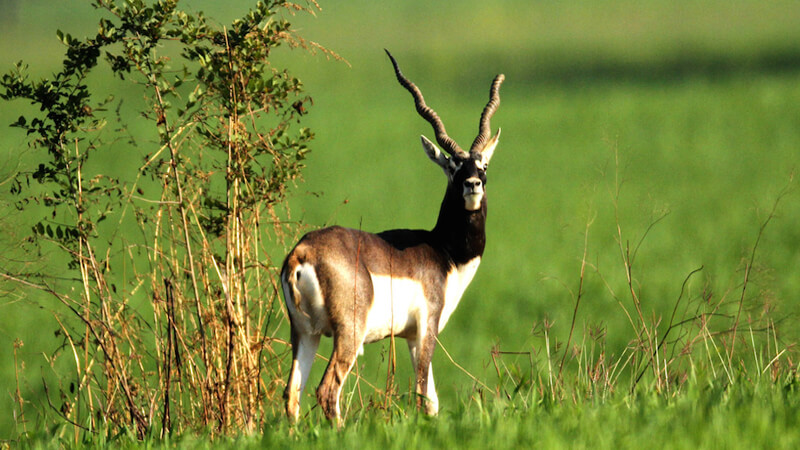 Satpura National Park is located in Madhya Pradesh and is known for its distinguished topography. The lush green forests make it a perfect breeding ground for various species of animals. If you are enthusiastic about wildlife, adventures, and animals, then Satpura National Park is your go-to place. Species like Spotted Deer, Leopards, Sloth Bears, Blackbucks, Antelopes, and many others can be found here. Plan your trip in months like October, December, and May for the best safari experience. The four-hour safari costs you Rs. 4750 – 8700/- per person.
8. Sasan-Gir Wildlife Sanctuary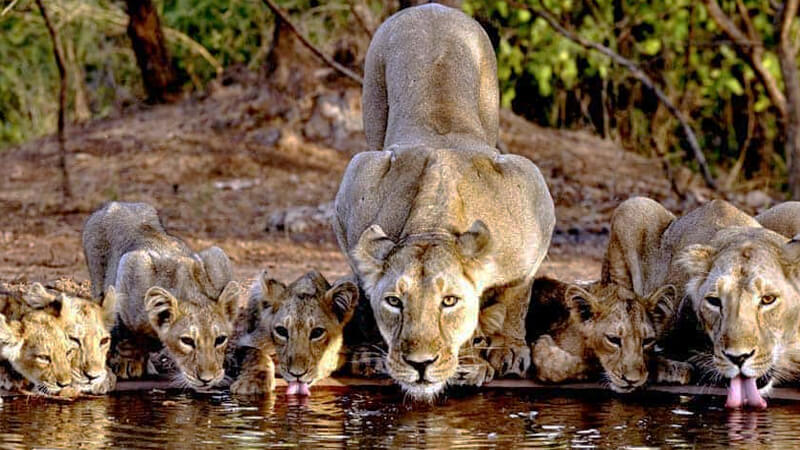 Located in the Western Region of Gujarat, the Sasan-Gir Wildlife Sanctuary has rough scrublands and dry forests. The sanctuary is home to Asiatic Lions, Leopards, Jackals, Indian Foxes, etc. Asiatic Lions can only be found in this sanctuary. Plan a jungle safari in December as it is a very exciting and exhilarating experience. The duration of the safari is four hours that will cost you Rs. 6300/- (Indians) and Rs. 16,800/- (Foreigners).
9. Tadoba National Park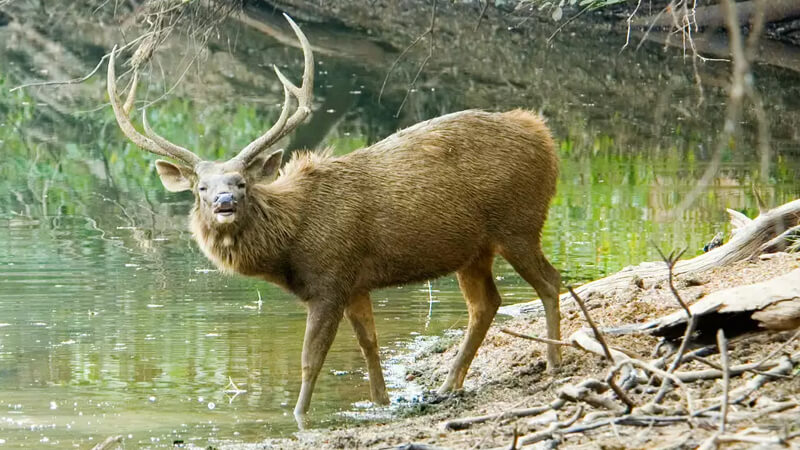 If you are a wildlife enthusiast, then this place is for you. Located in Maharashtra, the Tadoba National Park is surrounded by massive hills, a lake, and beautiful forests. The attractive point about this national park is that the lake is a watering hole for all the animals there. It is a famous safari spot. You can see Barking Deers, Hyenas, and many other animals here. Visit this park from October to June and book a jungle safari for Rs. 1550/- on weekdays and Rs. 4000/- on weekends.
10. Kaziranga National Park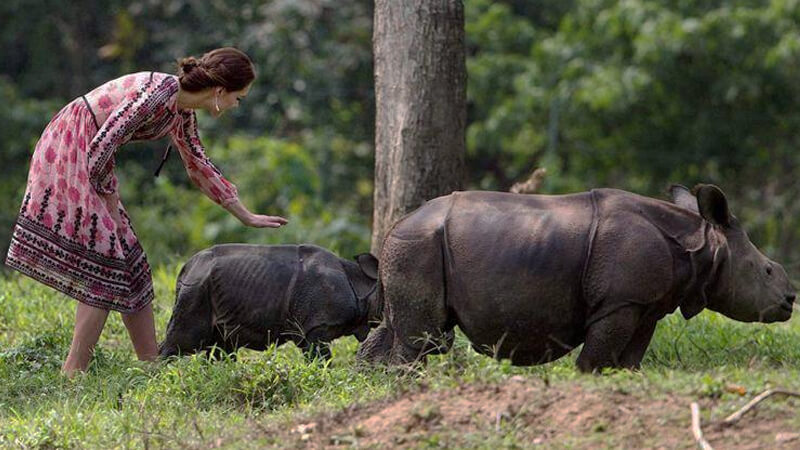 Situated in the beautiful valleys of Assam, the Kaziranga National Park has a surface area of about 420 square kilometers. It is a UNESCO World Heritage Site that is a home for One-Horned Rhinoceros. The largest number of Rhinoceros reside here. Apart from them, Elephants, Bears, and Panthers can also be seen here. November to April are the best months for visiting their national park. The two-hour jungle safari costs you 5800/-.
11. Manas Wildlife Sanctuary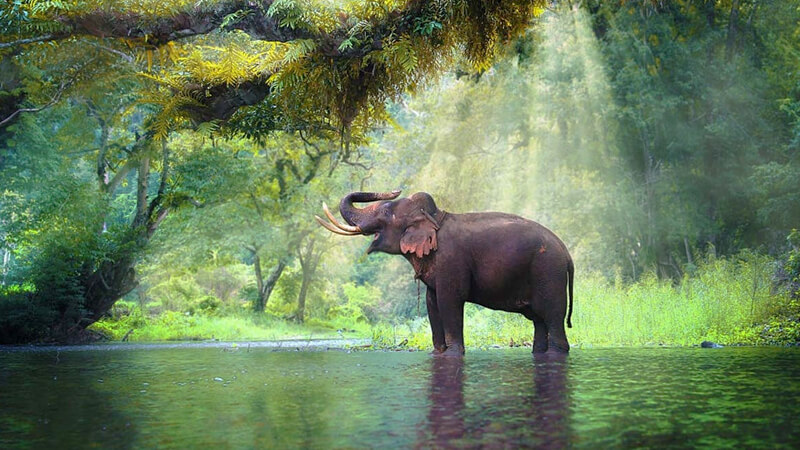 Another UNESCO World Heritage Site, this sanctuary is also located upon the borders of Assam and Bhutan. You can find Pygmy Hog and Indian Elephant here. Guided safari tours are conducted to spot these animals. Rafting excursions and wildlife camps can also be done here. October to April are the best months to visit this sanctuary. The fee charged for jungle safari is Rs. 2220/-.
12. Sundarbans National Park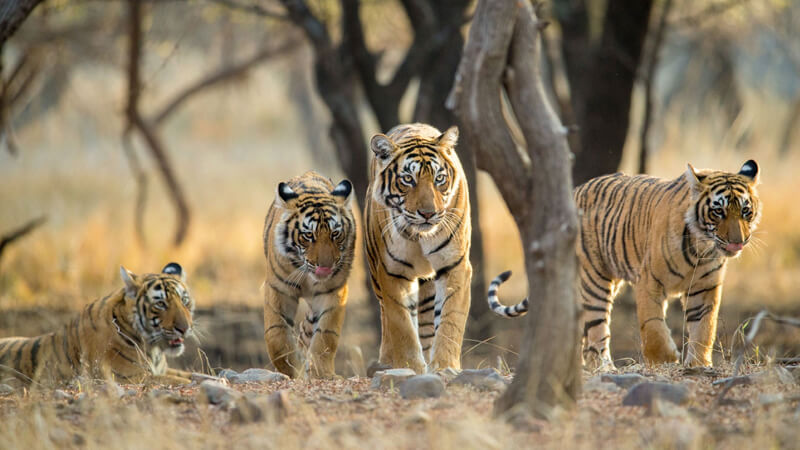 The Sundarbans National Park is a marshy swampland located in West Bengal. The 4000 square kilometers stretched national park is home to Royal Bengal Tigers, Leopard Cats, Macaques, Wild Boars, etc. The best time to visit this national park is from October to April. The duration of jungle safari ranges from four to eight hours. The fee for tourism here is Rs. 4600/- per person.
13. Periyar Wildlife Sanctuary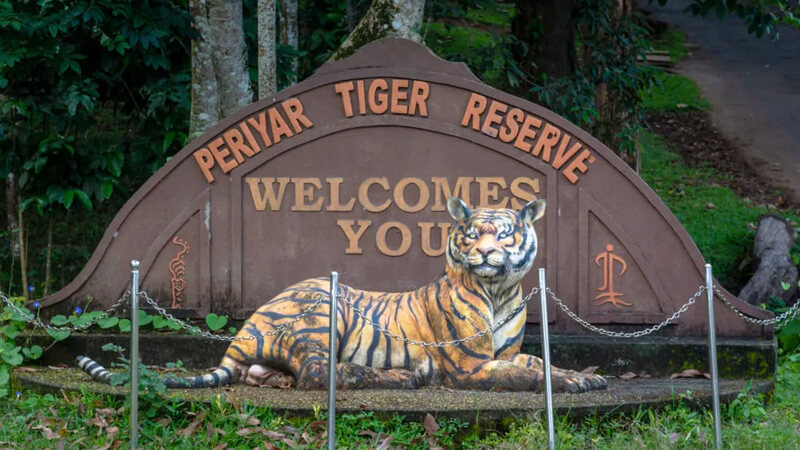 Located in the beautiful landscape of Kerala, the Periyar Wildlife Sanctuary has scenic beauty which comes from the Western Ghats. The sanctuary stretches out to the length of 192,000 acres of land having lush green forests and dense vegetation. Tigers and Elephants are majorly seen here. Along with wildlife safaris, you can also experience boat rides for the best experience. The months from September to January are the best months to visit this place. The four-hour jungle safari costs you Rs. 4000/- per person.
So, these are some of the best wildlife safaris that you must visit this year. Get an amazing experience by visiting these natural habitats, wildlife, and jungle safaris. Dive deep into the diverse lands of India this year with E
Mokaji Wild Safari. Mokaji Wild Safari provides you with the best packages for traveling to various parts of the country. Whether you are planning a short trip or a long one, we are here to help you. Book your next holiday with us and experience your life's best trip. For more information, visit our official website.
Book Your Booking By WhatsApp : 7020654349
Email : mokajitours@gmail.com
Send Your Query